If you want to send a sms that only someone knowing a password for it can understand, or just need to encrypt a conversation to hide it for prying eyes, now there is a easy way for that on a iphone. With TXTcrypt just enter your message and a password for it, now the encrypted message can only be decoded with that password, just tell it to someone, and send them message encrypted with it, they can use TXTcrypt to decode it.
TXTcrypt works with any character set being unicode compliant, the encryption used is as strong as encryption export regulations allow, not military grade but namely RC4 with keys as big as 64bit depending on the length of your password as such providing a decent amount of security.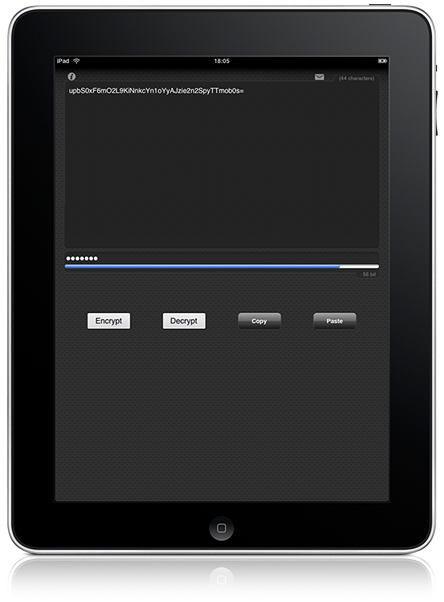 User Feedback
Don't want anyone reading some of these letters in my notes that I always save. So instead of buying a safe app for like $5, I'll just encrypt it. appstore review
Although stronger algorithms exist, this app provides more than adequate security for any user including small countries. appstore review
What I do for the information I really want to preserve encrypted, I encrypt with Txtcrypt before putting it in Evernote and decrypt it on my PC Pierre Lemay, user
The only app I found that I can use to share encrypted notes between my iPhone and Outlook David Gimpelevich, user
TXTCrypt and TXTCryptX are encryption software with classification ECCN 5D992 and they provide encryption features that are subject to the U.S. Export Administration Regulations ("EAR") and other U.S. laws when in or exported from the United States exported under the EAR to most destinations with No License Required ("NLR"). However, it may not be exported and re-exported to certain countries (currently Cuba, Iran, North Korea, Sudan and Syria) or to persons or entities prohibited from receiving U.S. exports, including those (a) on the Bureau of Industry and Security Denied Parties List or Entity List, (b) on the Office of Foreign Assets Control list of Specially Designated Nationals and Blocked Persons, and (c) involved with missile technology, nuclear, chemical or biological weapons, or military end-uses where prohibited by an applicable arms embargo. For further details on export restrictions applicable to ECCN 5D992 , please refer to the EAR.
The information on this page is not legal advice, and you are recommended to seek your own legal advice as appropriate.