With GPSnote you can easily add, edit and delete notes on the map.
You can create a note at the current location or by searching for a location by clicking the magnifier icon, a green pin will be shown that you can click revealing a plus icon that opens the keyboard for typing a note.
You can also create a note at a arbitrary location by tapping and holding for 1 second with one finger.
You can edit or delete existing locations that show as purple pins on the map, click a pin to be presented with a red icon on the right and a yellow one on the right.
Click the red icon to delete the note and the pin, click the yellow icon to edit the note, press done to save the change.
You can tap and drag pins around to move them and shake the device to change the map.

The location Country and City are automatically retrieved for a note after creating it.
Shake the phone to switch between map and satellite mode.
Tapping multiple times in a region with multiple overlaid pins cycles trough them.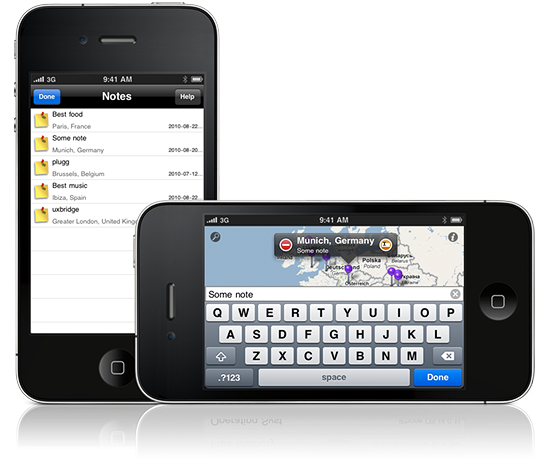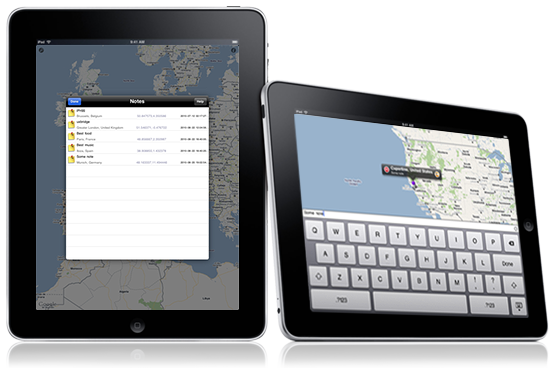 Exporting
Exporting the list of notes is possible while the device is connected to your mac got to iTunes > Device > Apps > File Sharing.

You can see a plist and csv file there, select a file(plist is a native OSX format and CSV is a comma separated values file compatible with most spreadsheet software) then press Save To.